The Research Development Team works with faculty on center grants, complex, multi-PI grants, training grants and other grants of strategic importance.
Our services include:
Supporting overall and sponsor-specific proposal strategy
Coordinating project team meetings
Identifying additional campus expertise and resources
Managing proposal submission schedules
Drafting, reviewing, and or coordinating letters of commitment from Cornell and partner institutions
Drafting, reviewing, and or coordinating other non-technical components of a proposal
Providing outreach and guidance in areas of grantsmanship and grant-writing
Providing faculty resources to assist in proposal writing
Liaising between your proposal team and the Office of Sponsored Programs and or Office of the Vice President of Research and Innovation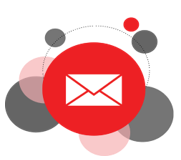 To take full advantage of these free services, please email us at proposal-adv-osp@cornell.edu.
Join the CU-RES-ADMIN mailing list to receive funding opportunities and other research related announcements. 
Photo: Itai Cohen, professor of physics, and Paul McEuen, the John A. Newman Professor of Physical Science, have invented a new self-assembling system, based on encoding digital magnetic interactions, that functions very similarly to base pairs in DNA. These are models they have designed the replicate the process in their lab. Credit: Lindsay France (UREL)