Link to the foundation search tools, and list of the main foundation funding agencies for Cornell.
Foundation Search Tools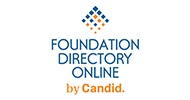 Foundation Directory: A comprehensive compilation of U.S. private and public foundation funding opportunities. The Directory provides profiles, funding opportunities, and links to foundation websites.
A subscription service is available for funding opportunity updates.
Cornell has an institutional subscription. Click here to get started. 

Grant Forward: Helps find grant opportunities that suit your research needs with a database of grants from over 14,000 sponsors which is updated daily. Search for grants by keywords and advanced filters, save your favorite searches for new grant alerts, and save your favorite grants to keep track of them. GrantForward also recommends grants to you based on your CV, past publications, and research interests (see quick overview video).
Cornell subscribes to GrantForward. You can create an institutional account at no fee. If you're on Cornell's network, the system identifies you automatically. If searching from home, use your Cornell email address. 
Life and physical sciences, social sciences, arts, and humanities.
See QuickTips and CaseStudies, and a Researcher Welcome Guide.
Exciting Funding Opportunities:
The deadline for nominations is November 30, 2020.
Three prizes of $1,000,000 (U.S.) each will be granted. Dan David Prize laureates donate 10% of their prize money to postgraduate students in their respective fields.
There is no limit on the number of individuals Cornell University may nominate.

Joint nominations of up to 3 candidates may be submitted.

Anyone can nominate an individual or organization.

Self-nominations are not accepted

, including nominations for organizations in which the nominator is currently employed or serves as an officer.
Visit https://www.dandavidprize.org/prize/prize-nominations for nomination guidelines and instructions. 
Top Foundation Funder Agencies at Cornell
Contact your Grant and Contract Officer to let them know you intend to apply for foundation funds and ask them if the terms and conditions conform to Cornell's policies.